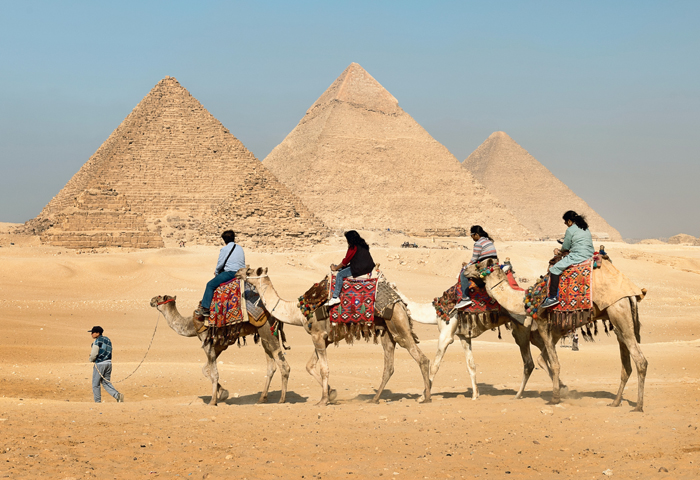 1. Failing to research the culture and country before your trip
Egypt is truly a unique cultural experience. With its predominant Islamic culture, it presents a different, more conservative side than some other places in the world.
Depending on where you've travelled from, one can be quite a culture shock. It's also hotter than most other places and can best be summed up as beautiful chaos- with loud noises, hectic traffic and people seemingly everywhere you go.
Personally, I found this to be part of Egypt's charm and why I enjoyed it so much. Although if you don't find constant shouting appealing — or have difficulties in noisy environments— this type of atmosphere may not be for you.
2. Packing clothing that doesn't fit culturally
Visiting Egypt can be a rewarding experience, but it's important to remember the local culture and customs to ensure respectful behaviour. With extreme heat present year-round, tourists may be tempted to dress more provocatively in an effort to beat the heat. However, such clothing is not only seen as disrespectful and can draw unwanted attention, but also violates expectations of dress in the Islamic country.
Instead, visitors should pack light, loose clothing that covers their shoulders, knees and chest out of respect for the people around them. Despite it being hot, wearing these clothes is necessary to avoid any potential issues while exploring the beautiful temples of Egypt.
3. Not prioritizing your Nile cruise
Planning for the MS Royal Adventure Nile cruise should be your first priority if you want to make the most out of your trip to Egypt. Unfortunately, cruises aren't something you can just book on the spot; since cruises only run on certain days of the week, it's important to double-check the times and prices before your continue planning other activities.
Additionally, keep in mind that these cruises are not available from Cairo – only Luxor and Aswan. Depending on how much time you have, there are either 3 night/4 day or 6 night/7 day options with departure times ranging from Mondays-Fridays. Taking these necessary steps beforehand will help ensure that you have an unforgettable experience while enjoying all the wonders of the Nile!
4. Neglecting a tourist guide for certain tourist destinations
Booking a guide while travelling to sights such as the pyramids can provide not just in-depth knowledge but an overall better experience. As a woman travelling solo, my visit was made seamless and harassment-free thanks to having a guide.
Many tourists were being bugged the whole time by people trying to sell them products or offer guiding services, something I didn't have to go through with mine. The bonus of having a guide around is that you get to learn so much more than if you simply wander by yourself.
It's easy enough to pay at the kiosks and visit the temples alone, but don't miss out on an incredible cultural exchange! Having someone show me their corner of the world gave my trip an unforgettable first experience. If you're not booking a tour guide for your entire time in Egypt, I recommend waiting to book until you're already in the country. Guide services booked online are frequently double or triple the price charged when booked in person.
5. Travelling without installing a currency converter app
Egypt is a beautiful country to visit and explore, but before you do anything it's important to be aware of the current exchange rate. I find that having a currency converter app is an essential part of my travel checklist, ensuring that I always have access to reliable information when it comes to converting my dollars or pounds. Doing this before trading my money helps me stay on top of prices so I'm able to enjoy Egypt without feeling like I'm spending too much!